Richard Donnell, director at the property analyst Hometrack, said recently, "At present we expect housing market turnover to bear the brunt of increased uncertainty rather than house prices."
You are an estate agent, and the bottom line is post Brexit, many are saying whilst house prices wont drop (that much), the number of people moving house will drop in the short term.
Less people moving = Less properties to Sell = Less Money for Estate Agents
.. and to add insult to injury, there is downward pressure on fees with the Purplebricks and Yopa's of this world.
This means, if you are a Neg or Valuer or Lister , you will earn less commission… you might even see some firms (like they did in the 2008/9 Credit Crunch downturn) make neg's, Valuers and Listers redundant.
Sorry to tell like it is .. but that is fact.
Reading this then, you have some choices/options my Neg/Valuer/Lister friend ..
Put your head in the sand, cross your fingers and hope everything will be OK
Hope your Branch Manager will have a secret plan to make everything OK, then put your head in the sand and cross your fingers
Or actually listen to what I have to say, read what I have to say, print off what I show you below and give it to your boss .. and tell them .. "We need to look at this to ensure we all have our jobs and decent commissions in a years time" .. because you wont lose your job or look bad by trying to help the firm get more business .. will you?
I guarantee, if you do what I tell you do, you will get more properties for sale… shed loads of them and you should be able to get them at decent fees as well
The most important thing for estate agencies is being called out for the free valuation. But when there are 20+, 30+, 40+ estate agents in your town .. how do you get on the radar of all the homeowners thinking of selling?
Easy ..
Become the Local Property Expert by talking about the thing 100% of property homeowners and 100% of landlords are interested in .. even obsessed about .. the value of their property and what is happening in the local property market.
Prove it by writing a monthly newsletter about the local property market .. but if you haven't got the time, just like you get someone to do your boards, photos and floor plans and EPC's … you could outsource the newsletter .. a newsletter like this ..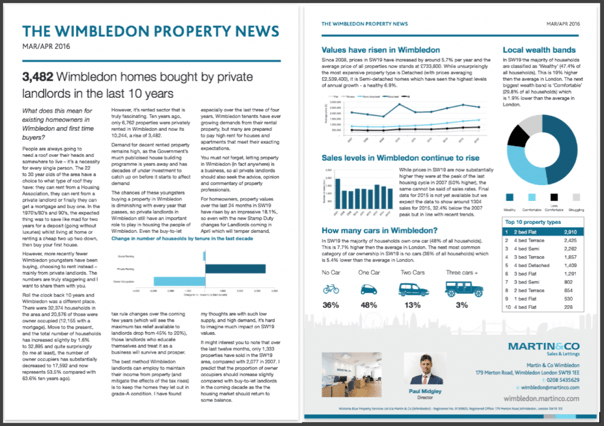 As a Neg, as a Valuer, as a Lister .. what do you have to lose by emailing a link of this article to your boss and say .. this could help us get more stock, more free vals, which in turn will produce more sales, more exchanges and more commission and ultimately, keep your job (and make you look brill in the eye of your boss)
Every homeowner and landlord wants to deal with the agent they perceive to be the expert .. the local property expert .. but how do you prove that?
Easy .. show people you are the local property guru – and if you think about it – 100% of property owners live in the property they own (obvious but often the most simple things are) and every survey says 50% to 60% of landlords live in the same town or city they have BTL property in.
You know where your potential clients are and you know what interests them .. so just talk about that .. the local property market .. your local property market in a monthly newsletter that you can deliver through the letter box of every middle to upper class house in your patch, then email it to your database and finally, get it out on social media
Finally, if you want to know if they work .. watch these agents (and myself) on these videos on attracting landlords/vendors to your estate / lettings agency https://goo.gl/d3A9tq using newsletters etc