As the Government has announced plans to repeal Section 21 of the housing act, we take a look at what this means for letting agents and landlords.
Known as the 'no-fault-evictions' legislation, Section 21 was intended to give landlords more power over the occupancy of their property, and to stimulate the growth of private lettings. Reception in the industry has been mostly one of apprehension, with the general sentiment being that with so many changes currently under way, another is only going to rock the boat even more.
What is Section 21
Part of the Housing Act 1988, Section 21 gives landlords the right to evict tenants without giving any reason at the end of their fixed tenancy or break clause date. In the case of rolling tenancies, or 'periodic' tenancies, i.e: those without a fixed end date, you can currently issue a Section 21 notice at any time.
A Section 21 notice always needs to be issued with 2 months (8 weeks) notice and is subject to the landlord or agent being compliant in the way they handle the initial tenancy and the issuance of the notice.
To serve a Section 21 notice to your tenants, you need to fill in the correct form (Form 6a) and be sure that you have issued the following to the occupiers before their tenancy started:
An up-to-date gas safety certificate (if applicable)
The Energy Performance Certificate for the property
The latest version of the Government's 'How to Rent' guide
Further reading: How Simple Admin Mistakes Can Void Your Right to Evict a Tenant Under Section 21
What is changing?
On the 15th April 2019, the Government issued a statement to announce that there are plans to consult on new legislation to replace Section 21. Following the announcement, the Government released its research documentation that had led to the announcement:
'Overcoming the barriers to longer tenancies in the rented sector: summary of responses and government response'.
The results of the consultation give an insight into what the government has planned, although there is nothing set in stone yet. We've outlined the key points in the document above:
Government findings
Tenancies of 6-12 months make up 81% of the rental market. However, the average tenancy length is 3.9 years. 41% of tenants do not expect to be able to buy their own homes in the future, and 38% of tenants are families with children. In 2017/18, 67% of tenancy evictions occurred because of rent arrears.
According to the English Housing Survey (2016-2017), only around 90% of tenancies were ended by the tenant's choice, and only 10% by the landlord.
Rent prices can go up once a year, with notice of one month, or six months in the case of rent paid annually.
The majority of landlords (70%) would be happy to offer longer tenancies if there were improvements to Section 8 legislation.
Most tenants and landlords are happy with the 6-12 month contract agreement, only because it is the widely accepted default option. Although there is evidence that longer tenancies can benefit both landlords and tenants.
Government proposals
Encouraging a minimum three year tenancy agreement with a six month break clause.
Landlords would be able to recover their property during the tenancy period if there are 'reasonable grounds'. This would include points covered under Section 2 of the Housing Act 1988, such as unpaid rent or antisocial behaviour.
A two month notice period is still the preferred option, as it gives the tenant time to find alternative lodgings.
Rents could still rise on an annual basis, so long as the tenancy agreement is clear about how the rates could increase.
There could be exemptions in place for when short term tenancies are the preferred option, such as for student accommodations.
What has the Government said?
The Secretary of State for Housing, Communities and Local Government, Rt. Hon James Brokenshire announced the changes alongside the PM Theresa May in April 2019.
In the original statement are some telling statements about the plans for the future.
Rt. Hon James Brokenshire said: Under the proposals, landlords will have to provide a concrete, evidenced reason already specified in law for bringing tenancies to an end…....to ensure responsible landlords have confidence they will be able to end tenancies where they have a legitimate reason to do so, ministers will amend the Section 8 eviction process, so property owners are able to regain their home should they wish to sell it or move into it.
In short, Ministers will look closely at Section 8 to strengthen the rights of landlords with regards to ending tenancies if needed.
Prime Minister Theresa May said: Everyone renting in the private sector has the right to feel secure in their home, settled in their community and able to plan for the future with confidence… ...this important step will not only protect tenants from unethical behaviour, but also give them the long-term certainty and the peace of mind they deserve.
The Government has stated that it is committed to discussing the proposals with landlords, agents and tenants with a view to developing a fair deal for everyone. There have been two rounds of consultation with the public, including in August 2018 and again between November 2018 and January 2019 (Considering the Case for a Housing Court: Calls for Evidence)
What has the industry said?
CEO of ARLA, David Cox said: Today's news could be devastating for the private rented sector and landlords operating within it… Although in the majority of cases there is no need for Section 21 to be used, there are times when a landlord has no choice but to take action and evict tenants from a property…. Until we have greater clarity on the changes planned for Section 8, today's news will only increase pressure on the sector and discourage new landlords from investing in buy-to-let properties. This comes at a time when supply is dramatically outpacing demand and rent costs are rising.

David Smith of the Residential Landlords Association said: With the demand for private rented homes continuing to increase, we need landlords to have confidence to invest in new homes. This means ensuring they can swiftly repossess properties for legitimate reasons such as rent arrears, tenant anti-social behaviour or wanting to sell them. This needs to happen before any moves are made to end Section 21. For all the talk of greater security for tenants, that will be nothing if the homes to rent are not there in the first place. We call on the government to act with caution.
( Further reading: Is the End of Section 21 Good or Bad? )
What does this mean for you?
The enforcement of the landlord or their agent's omissions will be highlighted by a tenant not wanting to move out of their property NOT a Governmental investigation.
The prescribed process under the Deregulation Act extends to common parts (e.g. in build to rent developments) where the landlord under the assured shorthold tenancy also controls the common parts.
In short, having robust repairs processes in place is critical for letting agencies and landlords who manage properties in England.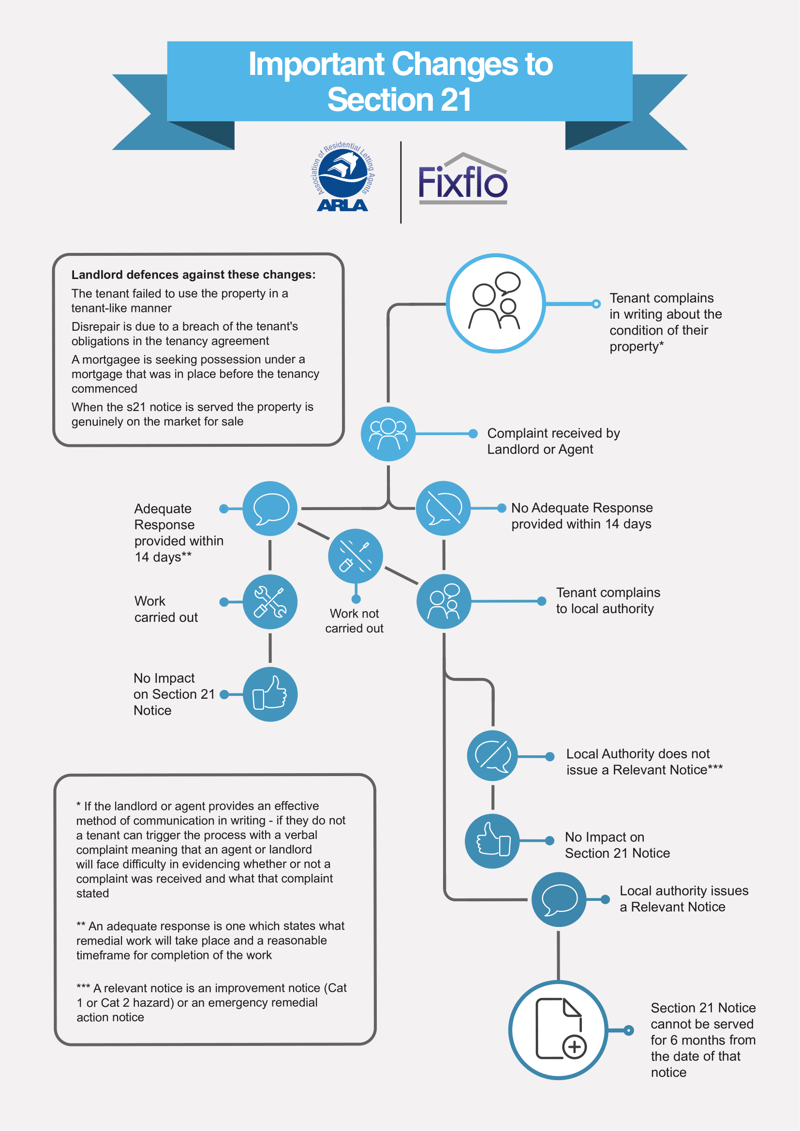 Section 21 Notice
Landlords who want to ask their tenants to vacate the premises after the end of a tenancy must serve tenants with a Section 21 notice. However, following recent changes in legislation, this procedure is not as easy to complete as it once was.
A Section 21 notice is the method by which a landlord can take possession of an assured shorthold tenancy (AST) or a statutory periodic tenancy. This is a non-fault notice, and landlords do not need to give tenants a reason as to why they are asking them to vacate the property.
As mentioned above, tenants must be provided with an Energy Protection Certificate and a Gas Safety Certificate, the most up-to-date version of the "How to rent: the checklist for renting in England" guide, published by the Department for Communities and Local Government and the appropriate deposit protection information.
A landlord can still serve a Section 21 Notice at the end of a fixed-term tenancy and during a rolling month-to-month tenancy with no fixed end agreement. If landlords wish to serve, they must fill out a prescribed form if the tenancy started after 21st October 2015, or write their own under the authority of Section 21 if the tenancy started before that date.
However, a Section 21 notice can no longer be served during the first four months of the contractual tenancy, protecting the tenant against landlords who wish for the tenancy to end early. Once a Section 21 notice has been served, proceedings to possess the property must commence within six months. If the landlord is unable to work to this set timeframe, the possession notice is rendered invalid, meaning proceedings will have to restart.
The Deregulation Act 2015 contains provisions that protect tenants against retaliatory eviction. This is an eviction that occurs when a landlord takes steps to evict a tenant if they have complained about the condition of the property.
As a result, tenants must now put their disrepair complaints in writing to the landlord (or letting agent, in the case of a fully managed service). The landlord or managing agent then has 14 days to provide an Adequate Response stating when they plan to resolve and manage the repair to resolution.
If the landlord or managing agent fails to do this, the tenant can take the grievance to the local housing authority, where councils can serve an Improvement Notice or order emergency remedial action. If such measures are taken, the Section 21 notice becomes invalid and cannot be reissued for six months.
Whilst the changes may seem a little stringent, the Deregulation Act 2015 encourages landlords and managing agents to follow best practice - for example in making sure that complaints are dealt with within 14 days. With a massive emphasis on providing evidence alongside a prohibition on retaliatory evictions, managing agents and landlords should ensure that they have the right processes in place to remain compliant.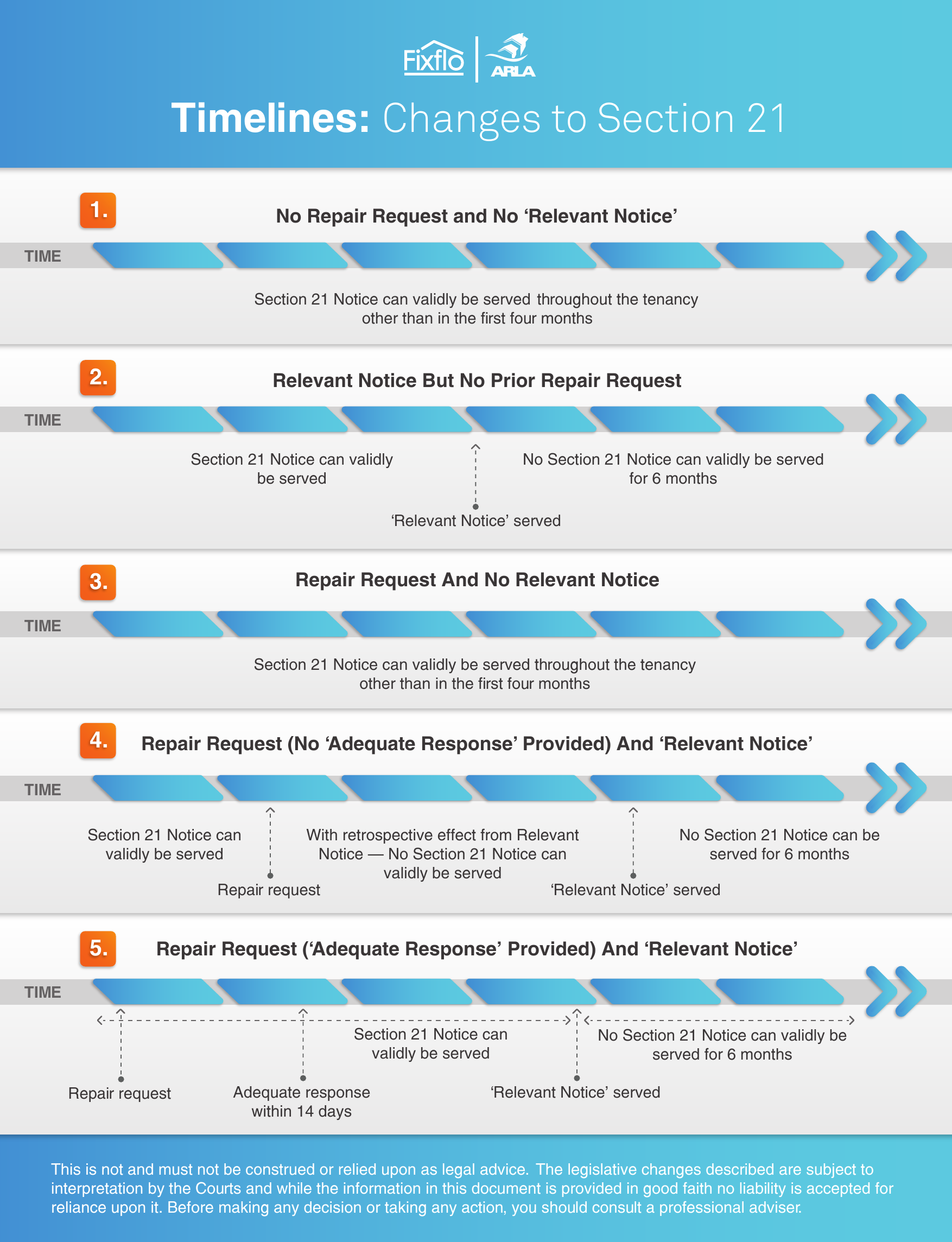 When is a Section 21 Notice invalid?
When the landlord has not protected the tenant's deposit in a recognised deposit scheme
If the local authority serves an improvement notice or orders emergency remedial action - in this case, a Section 21 Notice already served becomes invalid and cannot be reissued for six months
When the landlord has not given the tenant two months' notice (according to the move-out date specified on the Section 21 Notice itself)
When the landlord has not obtained the correct license for the property (such as in the case of an HMO)
When the landlord has not supplied the above documents If there are any discrepancies with the documentation or overall process, the Section 21 Notice will not be valid and the landlord may have to start again.
If the above has been completed successfully but the tenant does not move out by the specified date, an accelerated possession order can be applied for. This should resolve the issue assuming there are no discrepancies that mean the judge refuses to grant the order.
Further reading: How to Serve a Section 21 Notice Correctly
Impact on the sale of investment properties
Sales by an investment landlord to an owner-occupier are premised on vacant possession being granted on completion. If this is subject to a successful Section 21 process being undertaken then accurate records of compliance with the new process are likely to be demanded by the solicitor for the vendor (ie your landlord client). This is because their ability to covenant to sell with vacant possession is likely to predicate on a successful Section 21 proceeding.
Sales from one investor to a different investor may result in the purchaser's solicitor requesting copies of repair requests and responses if their client plans to pursue a Section 21 proceeding after completion. At present there is no prescribed Law Society format for those enquiries which may delay some transactions in reaching exchange.
The key to the change in law is that it is one of the processes rather than the outcomes. If an "adequate response" is provided in accordance with the provisions of the law then there is no impact on a landlord's ability to serve a Section 21 notice.
There is no prescribed form of "adequate response" but it is likely that in certain circumstances (such as if there is a vulnerable occupier) a template form of response will not be sufficient.
In the absence of guidance, it is being left to the courts to determine whether a response is an "adequate response" and it is reasonable to expect a number of test cases over the coming months to clarify the grey areas to these changes to the Section 21 process.
As a minimum, letting agents (who are paid to provide a professional and compliant property management service) should ensure:
(1) they have a structured process for receiving written repair requests
(2) they provide an "adequate response" taking into account the situation of the occupiers
(3) they can produce records of each repair request and adequate response on demand for Section 21 proceedings and a client wishing to sell their property
Whilst the changes may seem a little stringent, the Deregulation Act 2015 encourages landlords and managing agents to follow best practice - for example in making sure that complaints are dealt with within 14 days. With a massive emphasis on providing evidence alongside a prohibition on retaliatory evictions, managing agents and landlords should ensure that they have the right processes in place to remain compliant.
Further reading: How Can Letflo Help Letting Agents Comply With Section 21 Changes?
Don't miss anything, download this checklist to stay compliant with Section 21.