Here at Fixflo, we were recently thrilled to be able to announce our partnership with property management platform Re-Leased. Here's a quick overview about exactly who Re-Leased are, what they do, and how this partnership is going to benefit our customers.
Re-Leased is a fully automated, intelligent property management platform. Founded by property managers, Re-Leased is built upon modern cloud-based software that property managers and investors love.
With Re-Leased, property managers are able to handle every aspect of their entire property portfolio from one central dashboard while eliminating risk, maximising efficiency and reducing costs.
The traditional best practices of property management are outdated - they're paper-based or require various different and disconnected sources such as spreadsheets, Word documents, lever arch files, etc.
The issue with using multiple sources means that there is a lot of double entry and manual reconciliations. It's easy for human error to cause huge inefficiencies and hold-ups. But with Re-Leased, the critical information required to run a successful property management business is all in one platform, giving you one source of truth.
Working for both commercial and residential sectors, the Re-Leased philosophy is that platform always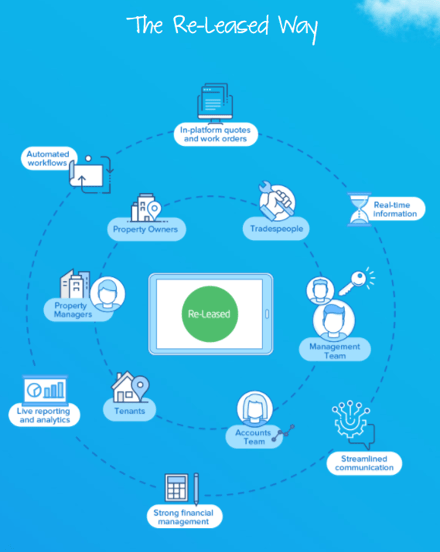 beats product; a belief that a platform upon which customers can handpick the services and apps that they want to use and pay for is far better than sticking them with the limitations of a single, homogenous product, regardless of the client's individual needs, budget and goals.
Most excitingly, the Re-Leased platform places great emphasis on the concept of collaboration. That's why, as well as the apps and services that are built in-house, a growing number of third-party apps are also available. And that's where Fixflo comes in - Re-Leased customers have the choice of including Fixflo in the service they create for themselves.
With Fixflo integration, property managers who use Re-Leased now have access to the best maintenance and reporting tool on the market - an offer which will sit alongside other esteemed apps such as Xero, Microsoft Outlook and Gmail Calendars.
We're incredibly excited to be partnering with Re-Leased; they see the world in the same way we do and approach problem-solving in a similar way. We're confident that, moving forward, the relationship between Re-Leased and Fixflo will continue to bring a level of service to our mutual clients that goes above and beyond anyone else in the market.